Interview by Johnny Rocco for Bowery Boys, 2012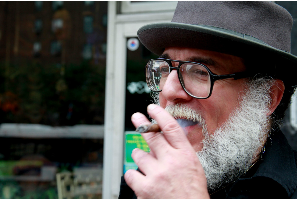 It was a dusty, grey afternoon down on the Lower East Side. The bartender at Otto's Shrunken Head laughed at the notion that we were to meet Frank Wood for a 2 o'clock interview. The summer humidity was thick and the drinks were stiff. In between the raindrops, patrons passed in and out of the kitsch filled tiki bar; a young rockabilly couple, a local vagabond and a sanitation worker, all paying homage, soaking in their pints.
It was nearly 3 o'clock when Frank Wood made his entrance into Otto's. As photographer Rick Edwards and I sat and waited patiently, Wood rushed about the bar, tending to its opening needs before sitting us down in the back room to reminisce and discuss his rich, colorful past and the state of today's music.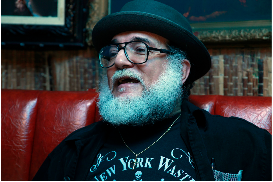 "My dogs were trained to attack for the groin. I was working with the Grateful Dead, starting in '75. I was doing stuff like outdoor concerts and big stadium shows. I would work the door and people would come up, like, 'Yo, dude, tell Jerry I'm here!' Yeah right. I had Shepherds, two. One hundred-twenty and one hundred-thirty pound Shepherds. We would do security, mainly perimeter stuff. I would put the dogs in the VIP room, so sometimes I'd just sit there and get the dogs mad, make them start biting at the door. The band would let me know if someone wasn't welcome. One time this guy is like 'Whose dog is that?' I said, 'Dude, it's not my dog', and the guy walked away without any problems."
A bit of vigor shoots Frank straight up. Almost a caricature of himself, his beard on edge and his eyes pop from behind his glasses. He smirks and holds out his pinky ring.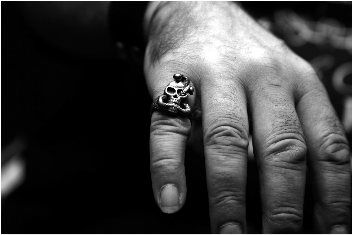 "So these are for the top security guys. The Dead had these made. Like, if you had a tee shirt that said 'SECURITY', people pull those out of the trunks of their cars. And laminates, well, even those can be made, but let me see you smelt some metal in the back of your fuckin' hippy van. I've done security for everyone, The Dead, The Who, the Stones, the Dolls. I did security at Shea Stadium with The Who, The Clash, and Davey Johansen in 1980, it's what I did."
Scantly clad Island women pose in dusty gold frames that stretch across the bamboo-thatched wall behind Frank Wood. Fitful cocktail tables are set out along the wrapped, pleated vinyl bench. As I twirl the melting ice around the bottom of my glass we continue to converse. Frank is incredibly animated and carries on without any hindrance.
"Basically, I've been booking shows since I was in high school. I found out my school had a budget! So, I could've booked Columbia recording artist Bruce Springsteen. I'm like, screw this, no! My cousin played drums for him in the '70s. I'm like, fuck, I can get five bands to play instead of three! I'd tell the school I was giving them two hundred each but I was only giving them a hundred. I would print up like twelve hundred tickets and I'd tell the school I printed up a thousand. So we'd go out after the basketball games to a diner and I'd be like, 'Hey, I've got this one. It's on the school government."
"But, ya know, I grew up in Downtown Brooklyn. My old man would get me a job for the summer. He was an Italian banker, so-to-speak, and he'd sit there and be like, 'The kid needs a job'. So, I'd work while my old man would go off to Italy. Once he'd gone to Italy, I could lag off. So, I was working with these black dudes and I'd end up hanging out with them at night. We would go up to the Bronx, which in the '70s wasn't the nicest place around, but the guys I was hanging out with were these huge fucking monster construction workers."
"So, I was hanging out with a bunch of these hip hop boys, these black jazz dudes, the yippies, the punk freaks and The Dead, so I was exposed to just about everyone and everything and I was never afraid to talk to people. And yon know what? Music always brings people together so, I guess for me, booking shows just came natural."
"So, I graduated high school in '73 and this is kind of the order. I would sit down with the the Dead Heads, then go down to CB's, and then I'd walk up the block to the Yippies, and then back up to the Bronx to hang out with my black friends, and then meet up with the Jazz guys in Spanish Harlem."
"I was exposed to a lot of stuff. Now, in the '80s I did some stuff we can't talk about. Let's leave it at that. I wanted to move away from some of that shit and those people, so I quit, moved into the middle of the fucking ghetto, Crown Heights, in the '80s, which was Hell."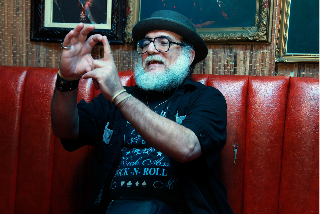 A black man with a flashlight peers in from the main bar area. Frank acknowledges the stranger's presence with, "What do you want?" The uniformed man identified himself as a health department inspector and that he was sent to Otto's to perform a routine investigation. Undaunted, Frank continued his story, keeping a watchful eye on the roaming health inspector.
"I was up here and decided I needed a break from all that, so I went down to Florida. Things were looking like shit in New York. CB's closed,The Continental, everything. Bands were breaking up, and I was like, you know what, I need a fucking vacation. Clarence Clemons, who was a good friend of mine, had this place down in West Palm, so, I'm down there and I was going to different bars, checking out the bands, and I was like, You're kidding me, right? This is what you got? These bands were fucking up James Brown! That's fucking James Brown, R&B 101 ! So, I sat there and I was like, 'Wow, this sucks. Listen, let me book a band'. They're like, 'Yon have a band?' I'm like, 'Yeah, a couple'. I'm like, 'We put together a CD with the best bands in New York'. New York City rock 'n' roll, all the bands on it were outrageous!"
"When you have a Frankie Wood logo, you've got a band who's going to come down, set up, be on time, set up the stage, sound professional, and kick ass. People will come up to me and say, 'We saw this show because of that logo. You have the best bands'. And I'm lucky, my friends happen to be in the best bands around!"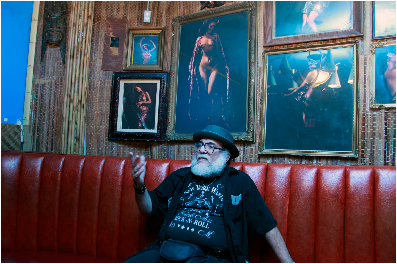 Frank sits back, adjusting his porkpie, pausing from his comedic prose, complacently lost into the blue water rippling light that is reflecting off the wall.
"Listen, music has always been about rebellion. See, I was lucky. I grew up in the '60s, so I now watch all this stuff attempting to recreate what was done originally with Hendrix. Like, who's going to play with Page or Clapton? All of these legends were amazing and we had them all at once!"
As some of the early Bohemian shrines are being overwhelmed by the trust fund high-heel and Oxford-wearing crowd, the remaining area is being erased due to gentrification and giving way to designer fashion, posh hotels, luxury rentals and exclusive nightclubs.
"The new dubs. One problem with the new clubs is the people moving in, the same reason why we can't afford to live here anymore. People come in and you move on top of a bar and now you want peace and fucking quiet?! You can't see the bar signs? Do you think that changes for you? You move to New York for the experience of New York. What the fuck's wrong with you? They've managed to strip all the color away from these streets and turn New York City into one big fuckin' shopping mall. But, what the fuck do I know?"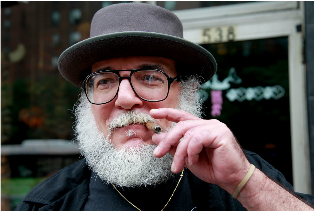 Frank Wood is incredibly real and very intriguing. It's not overly surprising that a true New Yorker, a man about his wits like Frank Wood, with his clamorous demeanor, would pose this question. Though many tout success in thwarting of what was once considered a breeding ground of urban decay of New York City's Lower East Side, Frank Wood's manifesto is valid. Even with many restrictions and the dwindling numbers of small venues, he continues to offer New York City an opportunity to experience some of the best underground music in the world.
"Oh, yeah I book over 300 bands in a year! Let's put it this way: Friday night I've got seven bands playing in Brooklyn. Saturday night I've got six bands playing at 106th Street-Columbus. Then, Sunday I've got my thing with another five or six bands going. That's over twenty bands this weekend alone and that's just me. My underground bands blow away any major-ass artist out there. There's a lot of stuff out there, there's a lot of shit out there. There is an amazing music scene happening in New York right now. The bands, these people, they are passionate about music. These are some of the best musicians around and I am proud to call them my friends."